About CRT
CRT has successfully served businesses for 14 years.  We pride ourselves in developing relationships with our clients; navigating their business objectives towards business goals.
CRT uses a team business model, with small call centers of 20 to 50 seats.  This model creates a team work environment, allowing for customized training and superior technology support. We train our team using strict standards of excellence ....... more on our team standards
Our Management Team

Critical to the success of a teleservices program is the quality of the management team. Every member, from a Quality Assurance Representative to the Call Center Manager, represents the voice of your company and is responsible for the message projected to your customers.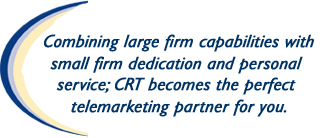 WE TRAIN: We recruit and promote only the most qualified for our management team. We train our management leaders to:
Understand the specifications of your program and product
Analyze daily progress and outcomes
Formulate a plan of action
Present new strategies
Execute those strategies with speed and accuracy
WE EMPOWER: Team leaders are empowered to make decisions in the best interest of your program. These leaders are committed to exceeding productivity performance standards and are accountable for their actions and decisions. Being a representative of your company is a responsibility each team member takes very seriously.

WE FOLLOW-UP:  Routine review of all team leaders by the company partners is a disciplined practice at CRT; this ensures all management is performing to their highest abilities. These standards of excellence carry over to the agents working on your program. Our quality assurance and training objectives include:
Completion and certification of a TSR training program that is unique to your campaign, including our extensive curriculum of technical instruction, communication and problem solving skill development
Onsite and remote monitoring capabilities
Ongoing evaluation of TSRs to maintain professional representation of your company and optimal results
Quality Assurance follow-up to ensure that proper and consistent information is being delivered your prospects
Consistent and disciplined coaching by TSR team managers
Incentive programs based on performance feedback